Shakespeare's Musical Brain Conference - 16 April 2016
The Great Hall and Chapel, King's College, Strand Campus, London WC2R 2LS
CLICK HERE to view the programme
In association with Shakespeare's Globe. Part of Shakespeare400.
The conference considered the relationship between words and music in aesthetic and scientific terms, and how it affects the relationship between actor and audience then as now. Bill Barclay, Director of Music at the Globe Theatre, explored the Music of the Spheres, both as this relates to Shakespeare and its meaning from ancient times through to modern physics. Prof Michael Trimble, behavioural neurologist, examined the similarities and differences in the conception and reception of words and music, understanding their distinct and mutual importance better through the medium of Shakespeare himself. Actors and musicians took a leading part, illustrating and responding creatively to the lectures, joining in discussion and ending the event with a performance of music and readings that reflected the themes of the day.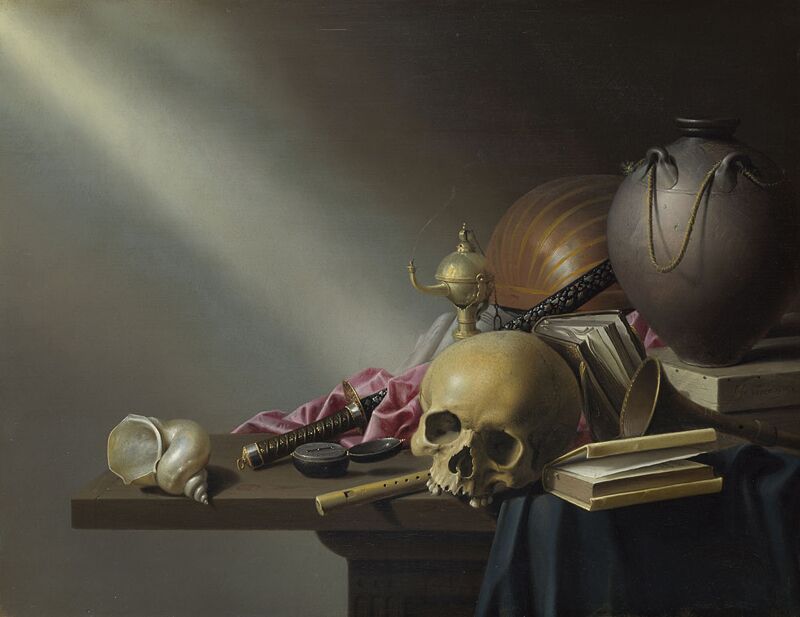 Image credit: Harmen Steenwyck - Still Life: An Allegory of the Vanities of Human Life, c. 1640. The National Gallery.
Speakers:
Bill Barclay, Director of Music at Shakespeare's Globe, is a composer, actor, director, conductor and multi-instrumentalist. He has collaborated with Shakespeare & Company in Lenox, MA, the Actors' Shakespeare Project in Boston, the Tanglewood Music Center, Boston Symphony Orchestra, among others. His works include Five Sonnets to Orpheus for the Aurea Ensemble. His solo performance Muse on Fire: Shakespeare & the Music of the Spheres has been performed in universities and theatres across the US and abroad.
Dr Freya Bailes, Academic Fellow in Music Psychology, Leeds University, will speak on 'Psychological Time-Travel: Exploring Audience Responses to Music In Shakespeare's Theatre'.
Dr Simon Smith is Extraordinary Junior Research Fellow and Leverhulme Trust Early Career Fellow at the Faculty of English, Queen's College, Oxford. He taught for Birkbeck, for Royal Central School of Speech & Drama and for Shakespeare's Globe, where he has been Early Modern Music Research Associate since 2012.
Michael Trimble, Emeritus Professor of Behavioural Neurology at the Institute of Neurology, Queen Square. He is especially interested in our emotional responses to artistic experiences: his book The Soul in the Brain explores the cerebral basis of art and belief and his more recently published volume, Why Humans Like to Cry, discusses emotional responses to tragedy and the arts from an evolutionary and neurobiological perspective.
Leading actors and musicians of Shakespeare's Globe illustrated lectures, joined in discussions and concluded the conference with a performance of music, song and readings in the beautiful King's College Chapel.
Musicians of Shakespeare's Globe, a consort of period instruments: George Bartle, Sam Goble, Robin Jeffrey, Alastair Warren and Adrian Woodward.
Actors: Will Mannering and Ellie Piercy
This event had live subtitles, delivered by STAGETEXT.


Supported by Backstage Trust and NADP